Terri Flint, Program Manager
UM Facilities & Operations
Elevator Group
326 E. Hoover Street
Ann Arbor, MI 48109-1002
Phone: (734) 647-2059
Fax: (734) 647-5725
Email: tlflint@umich.edu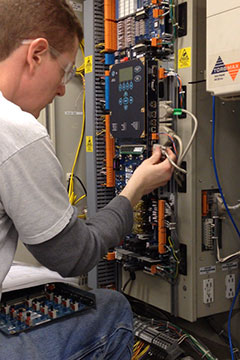 The Elevator Program Manager is responsible for technical oversight of elevator and escalator maintenance and repair on the Ann Arbor campus of the University of Michigan. Elevator repair mechanics are distributed to the various campus regions and provide a full range of maintenance and repair services for their respective regions. The elevator program also provides training assessments and continued service education.
All elevator issues can be reported to the Facilities Service Center 24 hours per day, 365 days per year by calling 734-647-2059. All Police, Fire and Medical Emergencies should be reported by calling 9-1-1.
Elevator Emergencies on campus
If the emergency occurs between 7 am and 11 pm weekdays, help will be on-site in a matter of a few minutes. At other times, a response will take no longer than one hour from the time we are notified. The Department of Public Safety responds to all elevator emergencies.
If you are the person stuck in an elevator, there are two rules to follow
Rule #1 – Over 330 elevators on the UM-Ann Arbor campus are equipped with emergency telephones that dial directly to the Department of Public Safety. If an emergency phone is available, use it to call for help. If there is no phone, push the emergency stop switch and the emergency alarm bell buttons. You will hear an alarm bell ringing. Continue to intermittently push the alarm bell button until someone responds.
Rule #2 – Stay in the elevator until a licensed professional arrives to help you out of the elevator. Do not, in any circumstance, attempt to rescue yourself. Believe it or not, the safest place to be in an elevator emergency is inside the elevator!
If someone else is stuck in an elevator, there are two rules to follow
Rule #1 – Verify that someone is trapped in the elevator. Call 911 from any campus phone and report the problem and location. In many buildings, the elevators are numbered in the upper left corner of the elevator doors. Reference that number, if available, when calling 911.
Rule #2 – Attempt to calm the person trapped in the elevator by telling them that help is on the way. DO NOT ATTEMPT TO PERFORM THE RESCUE YOURSELF! WAIT FOR THE PROFESSIONALS.
Escalator Emergencies at the University of Michigan
If someone is injured riding an escalator
Immediately push the emergency stop button located on the escalator at the top and bottom landings.
Call 911 and report the emergency.
Do not attempt to restart the escalator until it has been inspected by qualified personnel.
What we do
Your One-Stop Source for Elevator & Escalator Maintenance
The Elevator Group is the primary source of elevator maintenance and repair activity on the Ann Arbor campus of the University of Michigan. We are responsible for elevators, escalators, dumbwaiters, and wheelchair lifts, making us one of the largest in-house elevator service organizations in the country. We also provide requested support to the Flint and Dearborn campuses. Our inventory of elevators includes everything from 1920's vintage, relay-logic controls to the state-of-the-art microprocessor controls of the 21st century.
Regionalization
Elevator mechanics are distributed across campus, with each mechanic responsible for all maintenance and repairs required in their respective regions. The elevator mechanic handles in-depth maintenance and repair activities in addition to general calls for service. They conduct periodic and Category 5 full load safety tests, and rated load pressure tests at the intervals mandated by State of Michigan laws. They also are involved in the major repair activities, such as replacing hoist ropes, motor-generator removal/reinstallation, and bearing replacements.
Elevator Codes and Laws
All elevators and escalators are maintained in accordance with laws enacted by the State of Michigan. Our inspection, maintenance, and repair activities exceed the minimum standards allowed under State law. All of our elevator mechanics are licensed by the State of Michigan. Under the leadership of Terri Flint, the U of M Elevator Group is recognized as a "Class A" Licensed Elevator Contractor.
How Do We Do It?
A number of factors are used to determine the frequency of inspections by the Elevator Group on a given elevator or other device. Usage, age, location, and complexity of the equipment, are all considered in our maintenance scheduling. Additionally, if a particular device is experiencing on-going problems, we have the ability to increase the number of maintenance visits in the period, to ascertain and correct such problems when found.
New and Replacement Elevators
The Elevator Program Manager is involved in all new elevator projects and replacement elevator designs/reviews on campus. Our role in this activity is to oversee the installation process from design to completion. Our involvement assures our University customers that the equipment being installed is in accordance with University guidelines.
Other Features & Services
A library of elevator parts and service information is maintained and a large inventory of spare parts is housed on the job site, in our service vehicles, and in our region warehouses.
Elevator and escalator safety classes are held periodically when requested by our customers. We encourage everyone within the University community to use elevators and escalators safely, please contact us for more information.
U of M Elevator Design Guidelines
We comply with the UM Design Guidelines & Specifications for continued quality assurance.
Elevator and Escalator Links
Sources of information that we use
Facilities Information:
BOMA Home Page
APPA Home Page (The Association of Higher Education Facilities Officers)
MAPPA Home Page (The Midwest Association of Higher Education Facilities Officers)
Elevator U Home Page
Elevator Information:
Elevator World Magazine
Sweets Group – General building/elevator information
Elevator Codes and Guidelines:
ASME International
Elevator and Escalator Safety Rules
Elevator Safety Division
Michigan Department of Licensing and Regulatory Affairs