John Hirsch, Program Manager
326 E. Hoover St.
Ann Arbor, Michigan 48109-1002
Office: (734) 647-2059
Fax: (734) 615-6014
Email: johnhirs@umich.edu
Our office is located in:
Facilities Services Building 801, room 1000B.
The Fire Extinguisher program performs the annual and monthly inspections of fire extinguishers across campus as part of a service level agreement with EHS.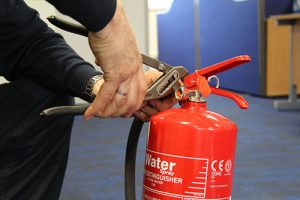 Scope of work:
Perform annual and monthly inspections of fire extinguishers.
Maintain and repair fire extinguishers
Prepare fire extinguisher cylinders for hydrostatic testing.
Remove or re-hang fire extinguishers not properly located or mounted.
Inspect and repair emergency/exit lights.
Student Extinguisher Inspection Program facilitation
Support the service level agreement for Fire Extinguisher services by providing quarterly reports to EHS management.
Eye Wash Inspection/Student Program facilitation
Automatic External Defibulator (AED) inspection coordination
To aid with the monthly inspections of the 8,700 extinguishers, the Fire Extinguisher Program employs a staff of college students through the "Student Extinguisher Inspection Program". The students are able to set their work schedule around their class schedule and other school commitments. The inspections are performed using a small handheld device that allows for easy tracking of extinguishers checked.