John Birkle, Shop Foreman
Phone: (734) 764-3231
Fax: (734) 615-6014
Email: jbirkle@umich.edu
Robert Nedrow, Industrial Electrician
Phone: (734) 764-3231
Email: bnedrow@umich.edu
Mike Lamentola, Industrial Electrician
Phone: (734) 764-3231
Email: lamentol@umich.edu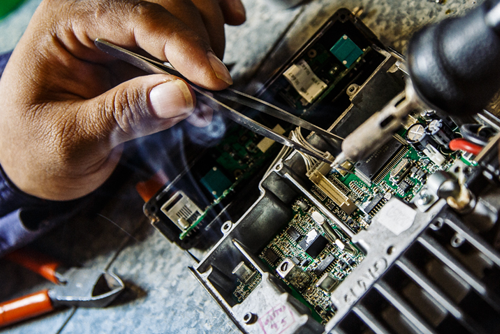 The Radio shop maintains an 800 MHz analog radio system for life safety and facilities communications. The system includes controller equipment housed at DPSS and three tower sites located at Wolverine Tower (south), Weiser Hall (central), and the Microwave Tower (north). The system supports ~2200 radios, 11 radio frequencies, and 112 campus talk groups, including:
Campus, Hospital and Housing DPSS officers performing safety and emergency response work (440/20%)
University Hospital & Survival Flight crews (1.7%)
Facilities & Operations staff performing construction, maintenance, transportation, parking, procurement, moving & trucking, grounds, and other work (1,287/58%)
Medical School/NCRC, (154/7%); other academic units (139/6.3%); Housing (18/1%)
Local First Responders who are unable to access digital radio service in our buildings*
200 Motorola Supervisory Control and Data Acquisition (MOSCAD) building alarm systems
Security console equipment located in CSSB/ Security Dispatch, and in the Facility Command Center (FCC) at the UM Hospital
* Note: Digital service is delivered by the State of Michigan Public Safety Communications System (MPSCS).
Typical services include:
Maintain and repair 2-way radios, trunking, and transmission systems.
Install, maintain, and repair MOSCAD (Motorola Supervisory Control and Data) system for DPSS (Division of Public Safety & Security) annunciators. MOSCAD refers to the remote terminal units (RTU's) located across campus, which send RF signals back to DPSS for monitoring of various alarm systems, mostly building Fire Alarm Systems. But also includes a vast array of Life Safety Systems; Fire Pumps, Hazardous Gas Storage units, High Water is Sub Stations, ETC.
Repair electronic equipment.
Repair building and special event sound systems.
Maintain and repair the "legacy" Simplex Clock System
Provide, install, maintain and repair Wireless Clocks (Primex Wireless System)