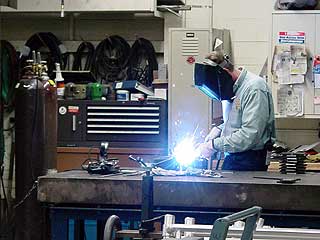 The Metal Shops provide specialized services in metal/plastic design and fabrication of specialty parts and machinery components, and building equipment repair. All maintenance and repair work is performed by skilled trades personnel who are specialists in their areas of expertise.
Our core specialized services provided to the campus community include the following:
Sheetmetal
Precision CAD-CAM sheetmetal fabrication and installation
Fabrication, installation or repair of architectural, structural or ornamental ferrous and non-ferrous metals such as duct work, grills, louvers, dampers, machine guards, gutters, flashing, tanks, cabinets, boxes, ventilators, window air conditioners, filter housings, roof vents, sinks, lab hoods, shelving, light fixtures, specialty medical equipment or most anything made of metal
Machine Work
Designs and fabricates metal and plastic precision and specialty parts and machinery components such as:
Student solar car project
Student future car project
Historical or obsolete components as in the Burton Bell tower clock mechanism and the Detroit Observatory telescope restoration
Welding
Provide assistance in design and fabrication for prototype or research projects and specialty items
Repair or replace all interior and exterior metals as needed due to damage, weather or wear
Repair, reconstruct or fabricate kitchen or medical equipment
Install rigging beams and walkways to aid in gaining or improving access
We comply with the U-M Design Guidelines & Specifications for continued quality assurance.
Our Mission
The Metal Shops support Maintenance Services and Facilities & Operations in providing the university community with the highest quality customer service and superior craftsmanship for maintaining a safe and comfortable physical environment.
---
[Best_Wordpress_Gallery id="5″ gal_title="Sheetmetal Shop"]